Join Rara Tou Limen Dance Company & Project HOPE Art as we open RASANBLE! Haitian Arts & Culture Festival 2014
Friday, Aug 08 2014 6:30 pm
Tickets Here!
A Taste of Haiti: An Art Benefit & Dinner
"Art is the Universal Language"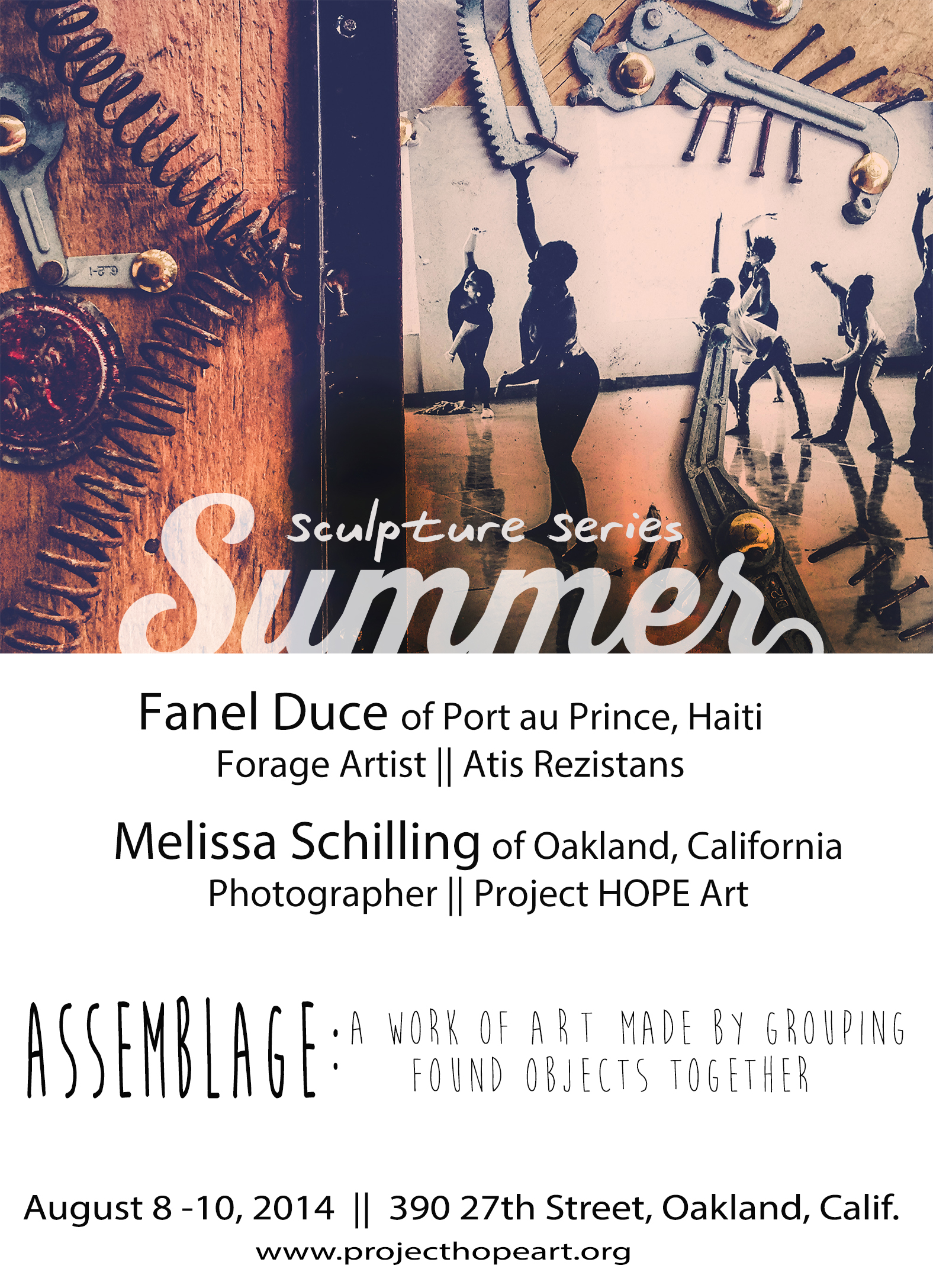 Sample the vibrant culture, flavors and beats of Haiti to benefit Rara Tou Limen's Cultural Exchange Trip to Haiti this summer, and Project HOPE's art programming in Port au Prince and the Bay Area
Dance Performance by Portsha Jefferson & Rara Tou Limen Dance Company
Dinner by: Pierre-Richard Leurbourg *RASANBLE! Special Guest
Art Show by Melissa Schilling and Fanel Duce
Wine Bar by Local, California Wineries
Friday, August 8, 2014 at 6:30 PM
390 27th Street, midtown Oakland, CA 94612-3104
Sample the vibrant culture, flavors and beats of Haiti to benefit Rara Tou Limen's Cultural Exchange Trip to Haiti this summer, and Project HOPE's art programming in Port au Prince and the Bay Area
Dance Performance by Portsha Jefferson & Rara Tou Limen Dance Company
Dinner by: Pierre-Richard Leurbourg *RASANBLE! Special Guest
Art Show by Melissa Schilling and Fanel Duce
Wine Bar by Local, California Wineries
Friday, August 8, 2014 at 6:30 PM
390 27th Street, midtown Oakland, CA 94612-3104
N'ap Boule! Welcome to the ticket page for A Taste of Haiti.
We appreciate your support and are gearing up for an explosion of Caribbean food and Collaborative Haitian-American art. Join us for our Friday Night gallery show featuring photos of Rara Tou Limen rendered by Atis Rezistans artist Fanel Duce. Lets celebrate with drums, drink specials and dinner.
Oakland, California
Rara Tou Limen Dance Company has an objective to help nurture and grow Haitian dance and musical traditions in the Bay Area. Accompanied by dancers, vocalists and celebrated musicians, the company brings to the stage a wide spectrum of diverse Haitian dance forms, from vibrant rituals of Vodou, the turbulent legacy of political struggle, to the celebratory and festive dances of Carnival, Rara Tou Limen is at the cutting edge of the evolution of Haitian dance and music in the Bay Area. The use of traditional rhythms, chants and movement integrates the grace, strength, fluidity and precision of Haitian folkloric dance.
Port-Au-Prince, Haiti
Project Hope Art gives a voice to those survivors of the Haitian tent Camps. Project HOPE Art uses art as a vehicle to inspire, to educate and to create intentional whimsy. We work with children in hospitals, orphanages, schools and communities in disaster stricken areas, utilizing art to help establish self esteem, self expression, self respect and stress relief for our students. We create art for art's sake, while educating through our art, science, nutrition and literacy programs. We twirl in tutus and face paint because it's good for the soul. Since our inception in January 2010 we have made multiple trips to Haiti and have recently launched a Visiting Artist Program, creating a sustainable way for artists in any medium to share their creativity with our kids and project partners as we strive towards our mission to inspire, heal and improve the quality of life for children in need.
Support.
We will be co-hosting 1 amazing night in August. @ The Humanist Hall in Oakland, CA
Tickets in Advance $35
Tickets at the Door $45
Childrens Tickets $25
Art Show and Wine Bar 6:30pm
Dinner 7:30pm
Raffle Prizes Announced 8:30
Dance Performance 8:45
Silent Auction Winners Announced 9:30
Doors Close 10pm
Rara Tou Limen
presents:
RASANBLE! Haitian Arts & Culture Festival 2014
August 8-10
Humanist Hall
390 27th Street
Oakland, CA
Folkloric Dance Workshops * Kreyol Language Classes * Vodou Song Class * Drum Circle * Haitian Cuisine * Lectures * Performance * Vendors *
Art Benefit * Gallery
3 days of immersion in spirited conversations, open inquiries, dynamic technique analysis, and community exchange with traditional artists from Haiti.
RASANBLE! Haitian Arts & Culture Festival is made possible with the generous support of Alliance for California Traditional Arts, Zellerbach Family Foundation, Everyday Magic, and the Wallace Alexander Gerbode Foundation.
www.raratoulimen.com
www.projecthopeart.org