Project Hope Art Photo Program 2013
The Project Hope Art photo program will last for 16 weeks and started on Sunday 28 April in PHA Center at Haiti Communitere in Haiti. 12 participants were registered, 10 were present.
By Romel Jean-Pierre:
Week 1:
The course started with an introduction from the students for them to get to know each other,  then we started with the first topic of the course: an historical introduction of photography, starting with the invention of photography through the invention of cinema to the current technology with digital camera. The participants then learned how to use a digital camera:  how to shoot a moving body, and basic techniques to adjust the light and framing. Then each students had the opportunity to practice their new skills later that day by photographing a fun tin can recycled car race which was happening at Haiti Communitere and also to photo-document a ecological tours of the resource center.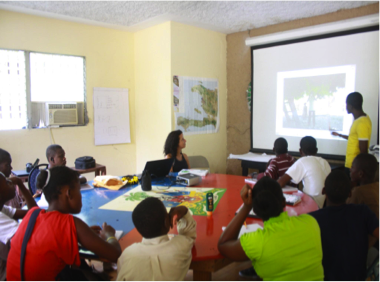 Week 2:
The second class started by a short reminder of photography basics including principles of framing and lighting. The students then auto-analyzed the pictures they took during the precedent week's class and were able to understand the importance of a good lighting and framing for a good picture.
On that day we had the chance to have the visit of an art therapist from San Francisco: Nathalie Brochstein. Despite the language barierre, she has been able to connect and communicate with the participant to the photography class, bellow you can find a report she wrote:
Session Summary.
Expressive Arts Session #1
Exercise 1 – Guess the emotion
Description;The group is split into pairs. One member of each pair moves to the side and is given the name of an emotion. Their partner then tries to guess what emotion they are expressing.
Goal;Identify emotions and warm up for movement based self expression.
Observations;Important to notice what emotions are move difficult to express than others.
This was followed by a check in where each member expresses the emotion they are current feeling
.* Good idea to start each session with an emotional check in so we know what the member brings with them and express it to the group.
Exercise 2 – Freeze movement with music
Description;The group is instructed to walk around as music is played. When the music stops they freeze and look at each other.
Goal;Moving to music is an excellent way to free up movement, warm up and helps the individual get comfortable moving within the group.
Observations;The location was too hot to continue this exercise long. Interesting to note that the group tended to join and physically connect. Important to note which group members move more easily in front of others, what movements they choose to express and repeat. What pace music they are freer with and what pace makes them uncomfortable. Important to note placement of members in the group. Who is in the center and who moves away. Interesting to try this again with local music that has more bass/rythm.
Exercise 3 – Pass the Movement
Description;The group stands in a circle and we pass movements to each other.
Goal;This exercise is aimed at moving and expressing ourselves in front of each other. This allows an individual to be seen and express themselves to the entire group.
Observations; Observe who passes to whom, how the movement is received and given. Size of movements and symbolism.
Exercise 4 – Situations Description
;The group then acted out situations in pairs and then as a group.Goal;This is builds the individuals courage to express themselves in front of a group and dive into understanding of situations and emotions.Observations;What situations were comfortable to them and how they played them. Here full stories began to unfold.
* Interesting to note that the role of the policeman was immediately to arrest someone.The session ended with a check in where each member expresses the emotion they think they will be feeling this evening.)
Nathalie Brochstein
In conclusion we can say it was a therapeutic day!
A bientot!!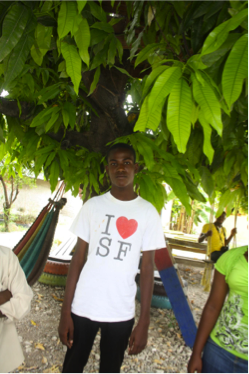 Week -3
For the third course, Nathalie Brochstein, our art therapist started the program with exercises that help children to externalize. We then started the photography class by reviewing the pictures taken during the last session. Practical exercises to further accentuating the different plans and the various shots and the story telling. During the day the children were not only able to learn photography but they could thrive with the art therapy session, which helps them to be more creative and the discharge of stress in their daily lives. Thank you to Nathalie Brochstein for lending us a hand.
Nathalie's report:
We had a wonderful session today.After the photo lesson I spent one hour with the children.
The first exercise was a check in. The group was divided into 3 pairs.
In each pair one child would explain how they are feeling to their partner and their partner would act out the feeling to the group.
Objective:This is used as a warm up and to check in and see how each person is doing. It also helps us identify and associate facial expressions and body language with internal emotions.
The second exercise is called inside/outside
Each person took a piece of paper and folded it in thirds.On the outside they drew how they would like to be seen in the world. On the inside they drew how they see themselves. Their internal feelings and how they see themselves.After 20 minutes of drawing each participant presented to the group.The drawings were powerful all members participated.
Objective:Assist in identifing emotions, how they want to be seen and how that effects them as individuals. Also a good exercise for presenting in front of others.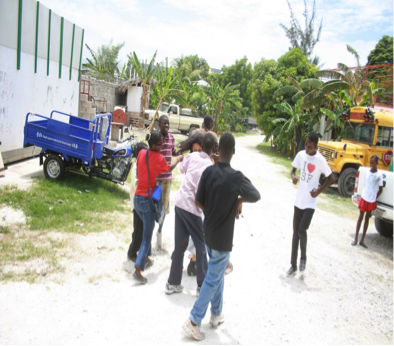 Week -4   
All the students were excited to spend Flag day (one of the major national holiday) day) studying with us. After a quick therapeutic session, we worked on the storytelling and practiced with the cameras on different point of views. Each students wrote a short description of how they planned to use the camera during the week. We are really excited to see the result next week!
Week-5 STORYTELLING part one .
For this class the student was have to: (Decide on a story to tell with photos, showing the class or something that happens at their house every day. Choose the best 10 photos and write a 2-3 sentence caption for each photo. they have to finish with a succinct story showing something simple that happens in their home. )
For this class everyone was on time *as usual and with a smile,we began by hearing each student talking about their week, and their prospective for the next weeks. it was really amazing to see how they were unpatient to come to class every Saturday to learn more of photography, but for me the most amazing how they are hunting to learn something new that they  not able to receive at their school. * for those who goes to school.
Week-6 Storytelling Part two 
For the part 2 of the storytelling the student was have to:(Read a newspaper. Find a news article that interests them. Shoot a photograph that could replace the original image accompanying the news story in the newspaper. Bring the photo and the newspaper to class.) But unfortunatly most of them are not a level to read and understand really well an article in a news paper 🙁 , so i was have to read and explain some article for them during the class and ask them take a photo who can better accompanying the article .  And to be more effective i was invited the Belgian journalist  Virginie Lejeune from lavenir.net , to explain them how to choose the photo to complete an article
As usual the class was so well..
Week-7 Revision
For this class we made revision on storytelling,various kind of shooting photos. we make photoshoot for everyone and it's was so fun