With Literacy Rates on the Rise in Haiti, thanks to President Martelly's decision to socialize schooling for K-8 in Haiti, the need for Technological Literacy is essential to complete integration into a modern global society.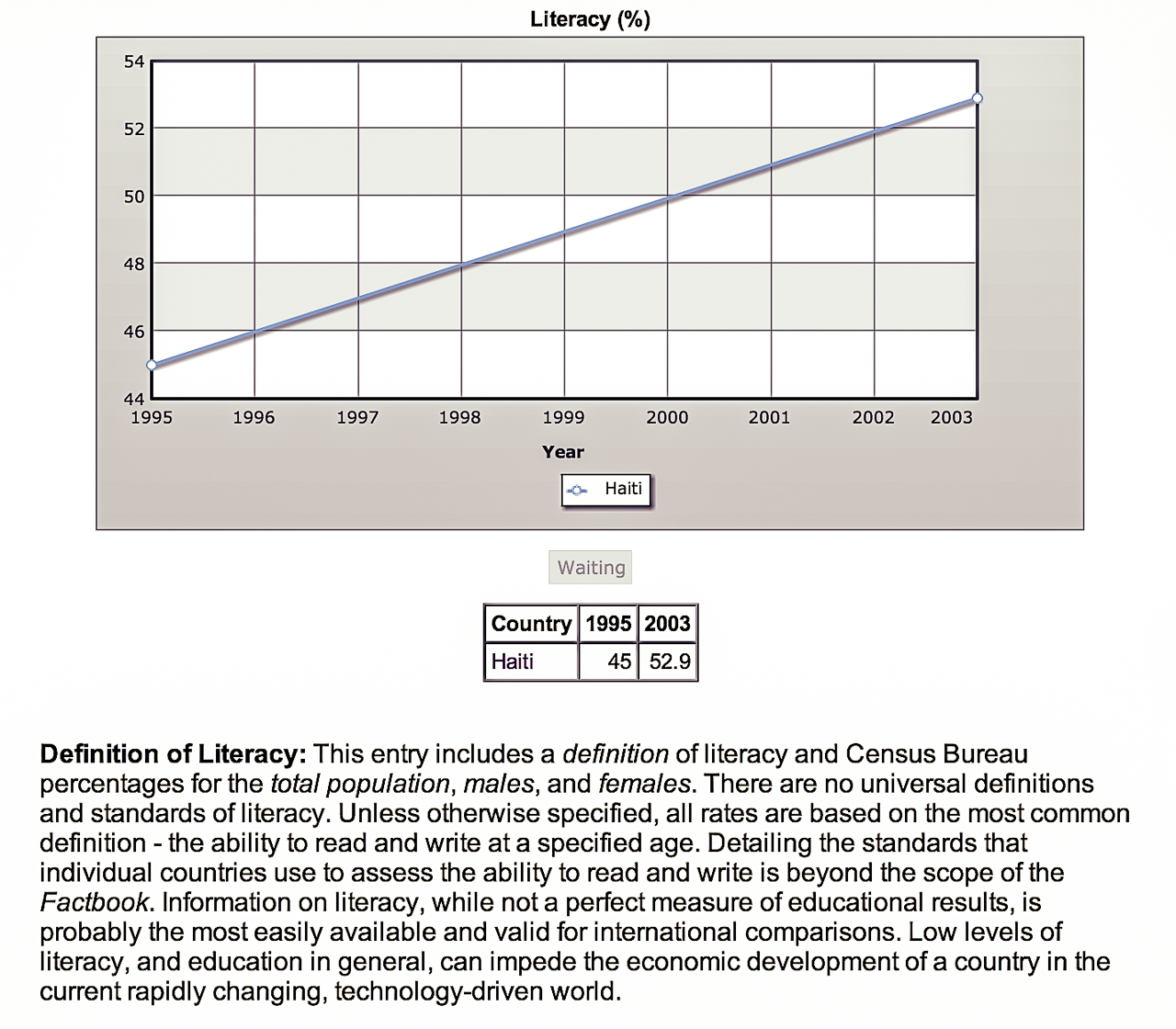 image source: Index Mundi
Thus, the Digital Pen Pal Program was born.
We'll be partnering school age young adults to participate in an exchange of art, culture, literature and daily life using instantaneous digital exchanges.
WE NEED YOU! You can help in three ways:
1. Be a pen pal or integrate the pen pal program into your curriculum. The U.S. pen pal would receive photos and scans of their partner's writings and artwork to which they can reply with enthusiasm in French or English as a way to further incorporate language acquisition and expand their partner's sense of self beyond the limitations of their city and country. If interested in incorporating this program into a classroom curriculum, please contact Melissa Schilling at melissa@projecthopeart.org or Christine Rosakranse at being@stanford.edu.
2. Help with backend development. We need programmers to help develop a low bandwidth social network for the exchange of this information. As you can well imagine Haiti's infrastructure can only support a certain amount of access and we'd like sharing to be as easy and usable as possible. If you have ideas, skills, or knowledge of systems already in place that can be leveraged, please let us know (melissa@projecthopeart.org and being@stanford.edu)
3. Donate to Project Hope Art. Money or art supplies are always welcome. Donate in person or through Fractured Atlas.
Project HOPE Art's Mission: To inspire, heal and improve the quality of life for children in need through the creative process of art.
Goals:
1. Create Opportunities for children in Haiti to express themselves and be heard through art
2. Facilitate information exchanges between communities in need and those communities that can offer assistance
If you'd like to help, please contact Melissa Schilling at melissa@projecthopeart.org or Christine Rosakranse at being@stanford.edu