Putting Trash Makeovers into the hands of many, this project focused on giving a facelift to the RAJEPRE School in Bwa Nef. Each and every year builders, innovators and organizers assemble at the Project HOPE Art Center at Haiti Communitere eco-base to fan out their ingenuity. These visionaries create new solutions (and celebrations) in poor Haitian neighborhoods. In one of the hardest hit and poorest neighborhoods, Cité Soleil, resides the RAJEPRE School, home to 100 school children who would otherwise not attend school or receive an education. This was the site for the sculptural installation.
Materials Used: Plastic Bottles: 500,  Aluminium Bottle Tops: 250,  Plastic Bottle Caps: 250,  Plastic Sachet Dlo bags: 250,  Feet of Wire: 350,  Gallons of Paint: 2,  Sewing Machines: 1,  Hours Spent Making Over the School: 96
Creating LIGHT where there is darkness, lead artist Shrine beamed a brigade of resourceful talent from Los Angeles, Salt Lake City and Oakland to Port au Prince in order to assemble from reclaimed materials a school makeover. Described as a contemporary Folk Artist and leader in the LA art scene, Shrine has a long history and diverse portfolio of art installations.
About the School: RAJEPRE is a dynamic organisation in Bwa Nef that concentrates on civic education. They run a community school and teach the children about environmental preservation and tree planting, while mobilizing the community to keep their streets clean.
School Director: Luc Winter
Contact Information: (509) 38664656
Most widely available found materials on the streets: plastic water sachets, cardboard juice boxes, bottle caps, tin cans from fish and tomato sauce, plastic bottles, cardboard, dust, sand, mud, small rocks
No. of Students: 150
Age Range: 4-18
Shrine's advice to the children of Bwa Nef . . .
"Forge ahead. Do other stuff with sticks, rocks, bricks, feathers, bones, tires, car parts, jars, dirt. Get some paint, scissors, string, pliers, wire, cardboard, a pencil. Now your ready to be free, put the dirt in jars, see if that makes sense. Make your own sense, nay sayers be dammed. put seeds in the dirt to make even more sense, add water. Add water to your heart, shower of love, see if it grows. Forge ahead." -Lead Artist Shrine
Trash Make-Over Instructions
Painting a wall: To paint a wall in the style we did, start by drawing a shape that inspires you on a piece of cardboard, cut it out. Using chalk, outline the template to draw your shape on the wall. build up a design using the same shape. Add new shapes. If this sucks then draw right on the wall following your hearts desire, abandon the template. watch lines come out of your hand, laugh, smile, continue. Paint in your shapes or drawings. Do not pour the paint on your friends head. Do paint designs on your shoes. Don't worry, if your not thrilled with what you painted you can always paint over it.
Plastic bottle, can, lid, Garland: First collect some trash, now look at it. Look at it differently, see if there is something beautiful there. Look at everything thrown away differently. Look at it like you just bought it in a fancy store, marvel at its design. Every Plastic bottle, every can and all the other packaging you use was designed by somebody somewhere. Cut off the label, Make a hole, add some paint, string the items on wire, make loops at the end of the wire. Hang it up, have a small party.
Plastic Water Bag Tassels: Carefully cut the bags open and sew together, cut into strips, make a loop on one end. Smash bottle caps, make a hole, put the loop through the hole. If you don't have a sewing machine, tie strips of plastic together from water bags or any king of plastic bag.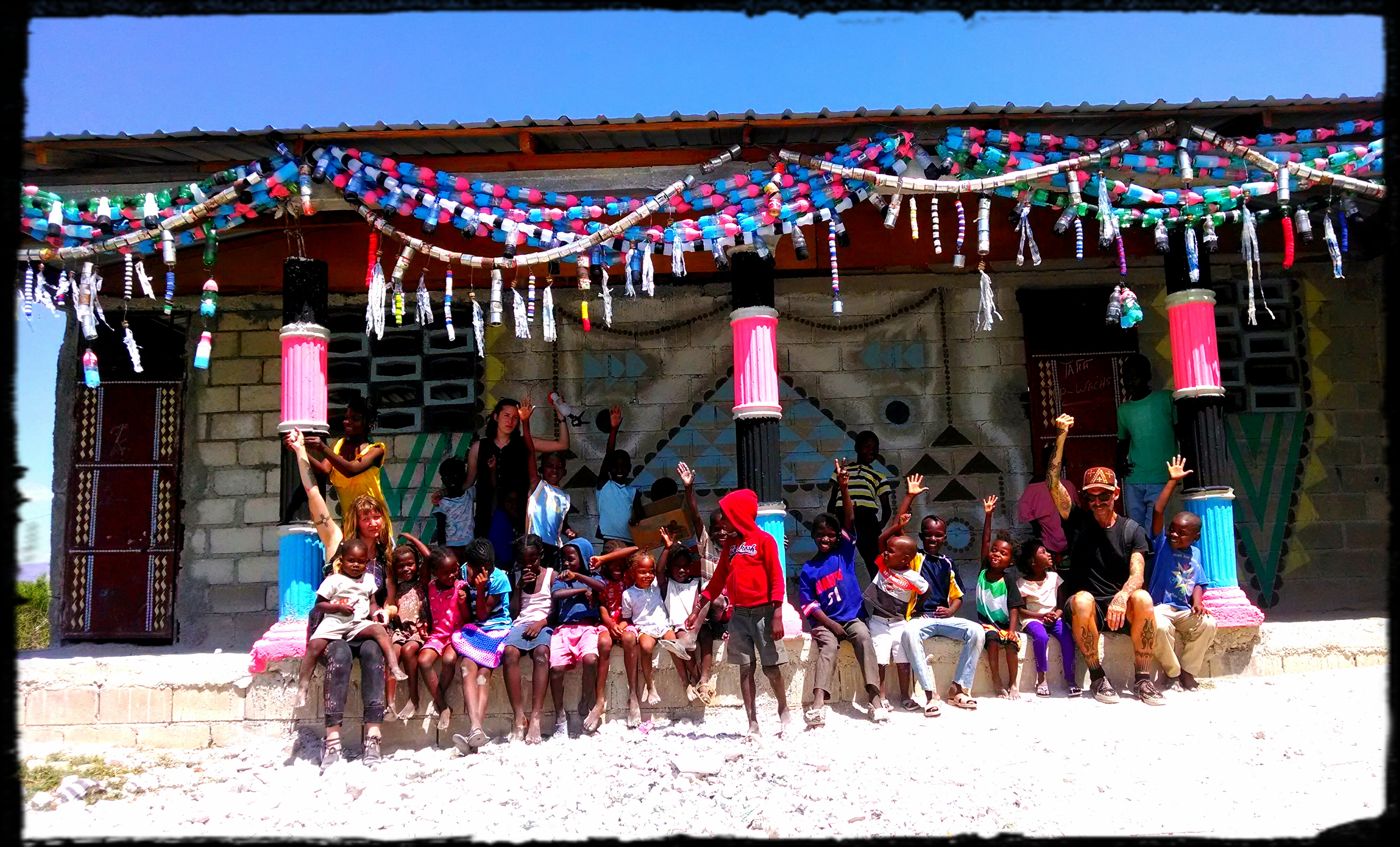 'Shrine's entire art practice is about making the dead and discarded objects of the ordinary world live whole new lives as fresh-faced stars of a new visual culture. He calls that visual culture the Empire of Love, and if it had a slogan, it would be "Art from Trash," advocating ambitious dumpster-diving as a serious form of design for a legitimately sustainable society.'
The Team: Shrine On, Jade Mangiafaco, Feather Chyld, Luc Rajepre, Lindsay Leigh, Laura Puts, Delphine Bedu, Fanel Duce, Students of the Rajepre School & Melissa Schilling