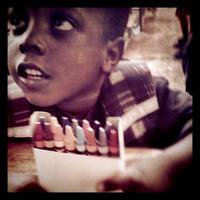 Join us for a two special evenings of Food, Art, Music & helping out the impoverished kids of Haiti
Order tickets via EVENTBRITE

Swinging the vibrant culture, flavors and beats of Haiti to benefit childrens art program in Port-Au-Prince, brought to you by Hope Art & ThejetsetChef
N'ap Boule!  You're invited to our Haitian Voodoo Dinner. We appreicate your support and are gearing up for an explosion of Haitian food and local art. Join us Friday night for our gallery show with Dj's, Drinks & small plates. Or go big with us on Saturday night with our special 5 course dinner focused on Caribbean flavors.
Port-Au-Prince, Haiti 2011
Hope Art is giving a voice to those in Haitian tent Camps, schools, orphanages & hospitals through art thearpy. We are exploring the arts as a catalyst for healing and Hope Art is inspiring others to create as a way to cope with the days problems. Life goes on in Port-Au-Prince, Haiti after the devestating earthquake of 2010, but it goes on in a hastily constructed tarp and cardboard make-shift town with little acess to any kind of social services. Time has passed but little has improved and more disjointed families feel hopeless.
Support:
Voodoo Gallery Opening June 10th. 2011 8:30pm till Midnight
Drinks, Music and Art (Suggested Donation: $5.00)
Friday night we will be hosting an art show featuring paintings and drawings from the some of the children of Haiti interspersed with artwork donated from local artists. We will have music, local art raffles, drink specials, a short film about our childern's art program and a chance to mingle with and learn from the people who are putting this event together. If you want to help out and are on a budget then come out, have a drink, buy a raffle ticket and involve yourself in the conversation.
Voodoo Dinner & Art Show June 11th, 2011 6pm & 8:30pm seatings
Dinner, Drinks Music and Art. ($45 for dinner, $65 with beverage pairing)
Saturday night we are having a full-on sit down family style dinner with food from The JetsetChef. The night will include music, drinking, food and a lot of surprises. We are offering 2 seating on Saturday night, 6:00pm and 8:30pm.
We also are offering a VIP table with 10 seats for $1000.00 Dollars. This ticket will include some extra goodies including a group photo, extra caviar course, champagne upon arrival and a lot of extra goodies.
Please come and support a good cause & have a good time

Featured Artists:
Austin Hill, Elizabeth Marley, Moses Hacmon, Katy Jeanne, Katy Atchison, Jen Reyneri, Susan Ulatoski, Luke Ratto, Julie Koopman, Shawna Healy, Jenni Ward and many many more bright lights who know that "Art is the Universal Language!"
Contact:
artdinner@projecthopeart.org