Interested in joining our team? Click Here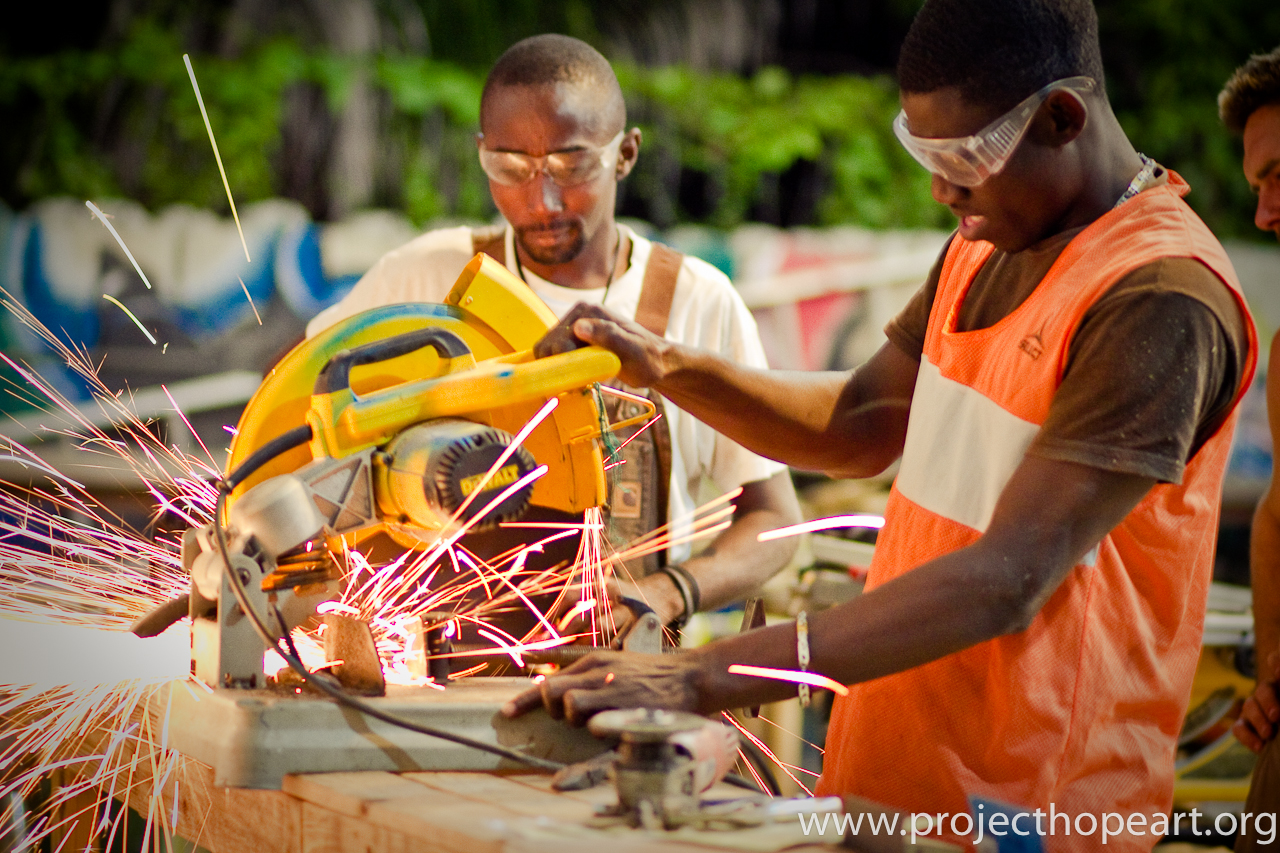 Our In-Country volunteers improvise, create and execute projects and workshops at the Project HOPE Art Center at Haiti Communitere in the Clercine District of Port-au-Prince. They are trained in a multitude of arts disciplines: Electronic Media, Upcycled Sculpture, Urban Agro-Ecology and Intentional Whimsy.
About Racine:
I was born in Jeremie, Haiti on October 29, 1991.   I am an emerging artist from the ghetto of Grand Rue in Port-au-Prince, Haiti. In 2006, I was adopted by my uncle, the well known artist, Celeur Jean-Herard. I worked as his apprentice at his school; the 'Realm of the Arts and Minds'. Here I learned about contemporary art history and I learned how to carve wood and rubber and how to assemble found objects.
Currently, I am a member of Atis-Rezistans, a community of artists who make artwork from recycled materials. In a country where only a few artists become recognized, we formed the Atis-Rezistans collective to help each other as fellow artists.  In 2009, my work was exhibited in Port-au-Prince at the Institut Francais, the 1st Ghetto Biennale, and the Fet Gede at the National Cemetery. In 2010 my work was exhibited internationally at the Portman Gallery in London, UK and at the XISM Etnografiska Museet in Stockholm, Sweden. In 2011, I participated in the 2nd Ghetto Biennale in Port-au-Prince and my work was shown in Nouvo Rezistans at the Institut Francais, Port-au-Prince.
contact Racine: racine@projecthopeart.org and website 
About Claudel:
I was born in Port-au-Prince, December 1981, and raised in the ghetto neighborhood, Grand Rue, where art and creativity is a primary activity. Because of this from a young age I was able to cultivate the natural talent with which each human is born: Art.  In 2008 I joined the artists group of Grand Rue called Atis-Rezistans.  In 2009 I had the chance to participate the first Ghetto Biennale organized by Atis-Rezistans and Leah Gordon.  During the Biennale I had the chance to meet the British artist Bill Drummond, with whom I collaborated to write a book which describing life during and post-earthquake called Imajine.  I also participate in many art exhibitions with my recycled Vodou sculpture.
contact Claudel at: claudel@projecthopeart.org
About Romel: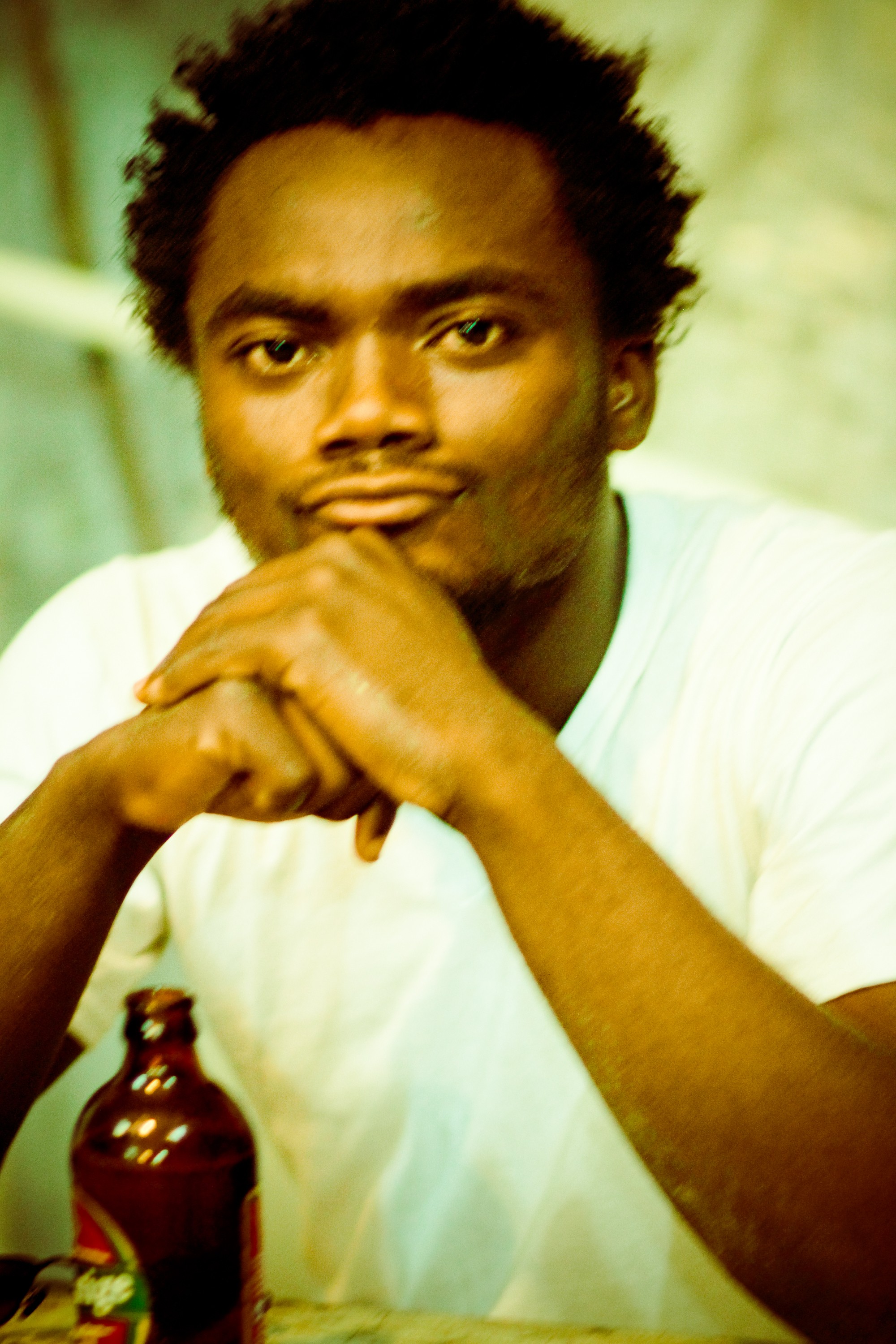 I was born in Port-au-Prince, Haiti 1993. I wanted to be a politician, but in December 2009 I discovered art during the first Ghetto Biennale which was organised by the artists' collective of Grand rue called Atis-Rezistans. I joined the youth arm of Atis-Rezistans named Timoun Rezistans and after that I created a video graphic performance/ citizen media called Tele Ghetto Haiti.From September 2011 to the present day, I have been continuing my artistic practice and my works have been shown in:: ENARTS in October 2011, for the Transcultural Comptemporain Arts Forum, Quinzaine of the Francophonie in Haiti, Delmas City Hall in March 2012 and the Ministry of Culture for the week of Europe in April 2012. The videos of TeleGhetto are on Facebook and Youtube and we would love to know your thoughts and opinions.  Romel is heading up our new Photography Program at the Project HOPE Art Center at HC.
contact Romel: romel@projecthopeart.org
About Fanel: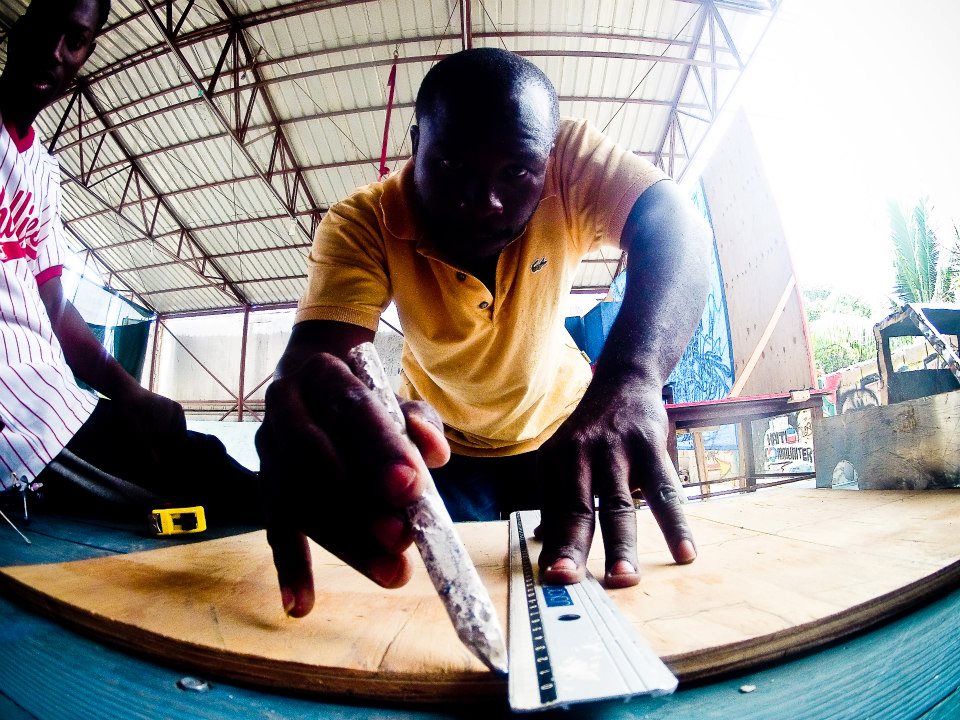 I am Fanel Duce, I was born in ​Port-au-Prince Haiti in February 1983. I have lived in Grand Rue since the year 1984.
I grew up in a house with my mom and my dad, My mom died in 1995 in a murder, but after the death of my mother I was still living with my dad, I was still going to school, and was supported by my father. When I was finished with school classic, my father did not have the means to send me to university, The choice he made for me was to become a mechanic, It was one of the best ways in the ghetto to make money.,Finally I did not love my dad's mechanical choices made ​​for me, so I began looking for other ways to create so I could take care of myself. I grew up in the ghetto with a lot of bad temptation and also a lot of creativity, between these two choices I had to pick up one. And this is this choice i take in 2004, to make me become the person I am actually and who give me the chance to be a part of artist rezistans.